BRIGADOON FOREVER!!!
THE BEST CAMP AT TRF!!
Welcome to the Brigadoon web site. Just a place where you can learn about our camp, the people in it, and the wacky things we do. Brigadoon...as most of you know, tells the story of a village in the Scottish mountains that appears once every 100 years out of the mist. To the villagers, however, only one day passes. As the story goes, a spell was placed on Brigadoon to shield the good people from the harsh realities of the world outside their village. Legend has it, if any of the townsfolk leave the village of Brigadoon...it will disappear forever.
Now..we don't appear every 100 years...just once a year at The Texas Renaissance Festival. For several weekends, we gather, put up our many GP army tents and have fun. This is a family...bringing together many different people from different places. We are all unique individuals, strange and polite and crazy and funloving. We cook, we dance, we drum and we relax. A great escape from that hard world out there we live in. There are many other wonderful camps out at TRF...and as this site gets updated, you will be able to read about them, our neighbors, our friends. You will find most of us at The Texas Renaissance Festival in Plantersville, TX or at a new, most wonderful faire, Sherwood Forest Faire. It's maiden voyage was this past Feb-April 2010, located in Paige, TX.
Why these 3 colors you wonder? Well...each of our 3 kings is represented by them. Andy wears red, his favorite color. Graeme usually has green in his garb and Mark, at the time, favored Purple. So..when they got their flags...these were the colors on them. Without these 3 kings..with one Queen (Andy's wife..me...Stephanie), there would not be a Brigadoon. Although I am sure all of us would have met eventually, and shared this wonderful past time of renaissance festivals, I don't know if we all would have ever gotten this close in the past decade! That's a long time for a group of people to get together!! Brigadoon is not just a camp as I said before. It's family...
Now, as you make your way around this site...remember this....
WELCOME TO BRIGADOON. WE HOPE YOU ENJOY YOUR STAY. COME BACK AND SEE US REEEEAL SOON!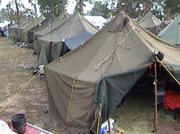 **NEW TRF 2009 PICS ARE UP**
Email me below